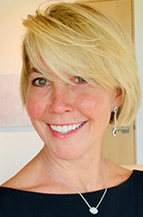 Elizabeth Briggeman, founder and president of eb ready to wear, is an active and respected consultant in the fashion industry. Over the past 20 years, she has dressed thousands of women, traveled extensively and loves all the world's fashion, culture and designers.
Elizabeth possesses an extensive creative background in sewing, design and retail. From years of living in Italy and speaking the language, she embraced designer couture developing a keen sense for pairing designer labels with lesser-known brand names to achieve a stunning look and style.
The Sun Valley based stylist travels all over the United States to work with her loyal and distinctive clientele. Her clients include male and female CEOs, corporate real estate executives, surgeons, interior decorators, retired executives, as well as working and stay-at-home moms. Almost 25 percent of eb ready to wear clients are men. All of Elizabeth's clients trust and respect her advice.
Known for her ability to listen to clients' needs, Elizabeth's credo is to give her clients a personal style to put them at the top of their game.
Respecting a person's privacy is an important aspect of her business, so don't ask her who her clients are, because she won't tell. Her exclusive clients' confidentiality and their secrets are secure. She strictly follows her motto: "What is said in the closet, stays in the closet."
Visit the eb ready to wear testimonial page to read first-hand about Elizabeth's talent and expertise she possesses from her die-hard enthusiasts.